2017 Adventure Races in review
by Jess Evans &
Casey Hill
January, 2018
Casey is a great endurance athlete, dedicated adventure racer, and super sweet person.  She provided her 2017 race commentary, and I decided to share some of it with a few added comments of my own.  Enjoy!
Frigid (January 2017)
Got lost under the same tree-stand during the second race… cold freezes the brain too.
The 15 hour Breakdown (April 2017)
Paddled down a swollen river at night…. Let's not talk about that ever again.
Kenlake (August 2017)
Becka and Casey arrived a day early to lead the 361 Adventure Night Nav Clinic, which is funny because it is not their strong suit.  Dallas said reassuringly there would not be many people present… The place was packed!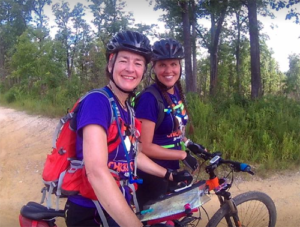 USARA National Championship Race in the Poconos
Team house with all the 361 racers together (both the male and female teams) – so much fun!
Casey made the unfortunate comment to the teams during the pre-race dinner that she would take bike pushing any day because she was good at it. Well, there was a lot of bike pushing up steep mountains and over huge boulders in this race.  Shawn casually asked Casey how she was doing during one of those steep bike pushes with a sly smile on his face.
361 Adventures Chickpoints won the all-female open team category!
Hear more about this race: TA1 Podcast
The Fig (November 2017)
Another 361 Adventures team house at Skybridge.
The ride back to the finish was glorious in a fast moving pace line while the sun was setting on the beautiful rock formations.
---
Welcome to 2018
by Jess Evans
January, 2018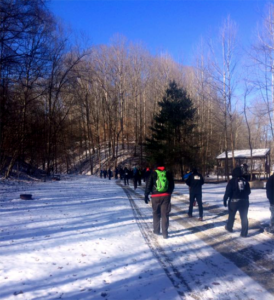 361° Adventures had their first race of the year in Brown County, Indiana.  And true to the name, it was Frigid!  The high was around 15 degrees and when the sun went down, the temperature dropped with it.  Racers were bundled up in hats (multiple hats on one head, in some cases), gloves, scarves, snow pants, boots, coats… all the winter gear you would find on kids heading out to the sledding hill.
It was the perfect day to be out in the woods… the sun was shining, there was a light breeze, the ground crunched as you walked across it, the trees stood like lifeless sentinels on the hillsides. The 6-hour race passed quickly as racers scurried down re-entrants and climbed over fallen trees to find those elusive flags.
We, at 361° Adventures and Athena Adventures, have decided to share our thoughts, experiences, training, races, and more through this blog.  If you have a race experience you would like to share or tips that work for you, let us know because we are interested. Until next time…
---
Groundbreaking study reveals that Adventure Racers would rather get briar-whipped than go to brunch with significant other.
by Shawn Lemaster
October, 2017


After an extensive three year study
spanning four continents, researchers from Henderson Community College published revolutionary, and apparently universal results, regarding adventure racer's addiction to seemingly miserable experiences.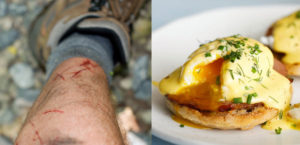 "This is perhaps the most bizarre thing I've ever documented," said lead scientist William Thomas, pointing to the fact that even after repeated experiments, the test subjects were inevitably drawn to images and experiences that the normal population would describe as painful and terrible.
Read the whole ARticle here