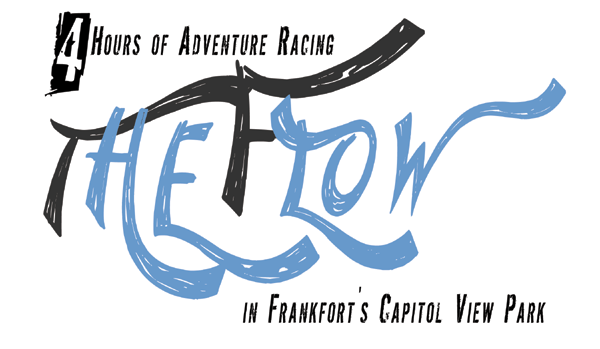 This IS The Flow: a truly beginner-friendly Adventure Race to introduce you to the best sport in the world!
April 14th, 2018
Get ready to bike, paddle, trek your way around Frankfort's Capitol View Park in a FOUR hour Adventure. NO prior navigation/orienteering experience is needed for this one and ANY bike will suffice. We'll also be partnering with a local canoe/kayak livery for anyone that doesn't have their own boat.
Have questions, need advice, motivation? Check out The Free Flow Training Group.
"Find teammates, join training sessions, and ask any questions you may have about adventure racing! Our goal is to get everyone out for a fantastic race day in the beautiful Bluegrass."
If you can use a road/trail map you can do this. Absolutely no prior navigation skill is needed.
Below is an example of the main map. We'll give you a trail map of Capitol View Park too!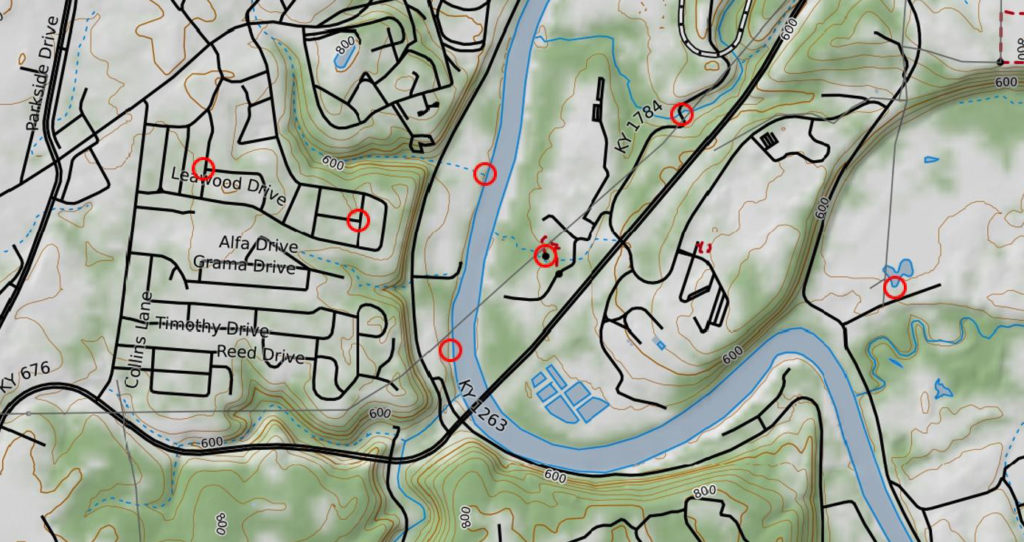 ---
What is Adventure Racing?
An Adventure Race (AR) is simply a race in which participants use a map and compass to locate checkpoints (CPs) utilizing specified modes of travel (biking, trekking, paddling). The goal is to locate the most CPs in the allotted time. There is no set course so you are free to choose any route you'd like – this makes AR all about strategy! Feel free to contact us if you have any questions about getting into this sport.
---
Race Facts
WHAT: A beginner adventure race
LENGTH: 4 Hour Cut-off time
DISCIPLINES: BIKING (road or optional trail) | TREKKING (trail & road) | PADDLING (creek/no rapids)
DISTANCES (approximate):
Minimum miles to be an official finisher: BIKE 3 | TREK 1 | PADDLE 3
Total miles to clear the entire course: BIKE: 10 | TREK 4 | PADDLE 3
WHERE: Capitol View Park (and surrounding area). Frankfort, KY. START/FINISH will be at Capitol View Park.
WHEN: April 14
WHO: – Divisions are simple:
2-4 Person Family: Choose this division if you're racing with someone under 16 years old. You don't actually have to be related to race in this division. (Teams with teens may also choose to race in the "2-4 Person Team" division if they wish.)
2-4 Person Team: Choose this division if everyone on your team is over 16 years old.
Solo: Choose this one if you're brave enough to go it alone. Unavailable for racers under 16 years old.
REGISTRATION:
NEW for 2018:

The registration fee for anyone under 16 years old is only $3.61

NEW for 2018:

We're lowering the fee if you sign up early. AND these fees are your actual costs. No processing, insurance, or anything else added on.
Regular Registration: March 12th – March 28th : $70
Late Registration: March 29th – April 11th : $75
---
Additional Info
MANDATORY GEAR | RULES | ROSTER | RACER COMMUNICATION | RESULTS |

SCHEDULE: 
Race Check-In/Staging —  9:00 am – 10:00 am Shelter Location
Race Start —  11:00 am. (Maps distributed at 10:30 am)
Race Cutoff — 3:00 pm
After Party — 3:15 pm
---
---
Past Results