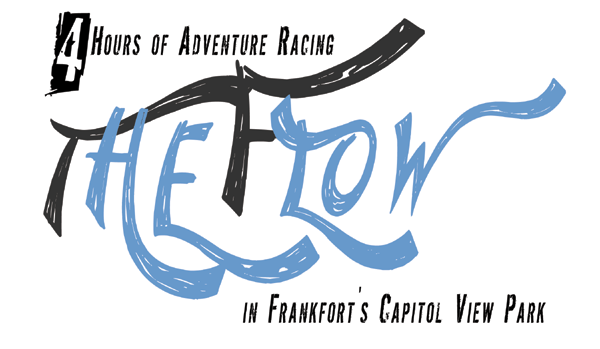 This IS The Flow: a truly beginner-friendly Adventure Race to introduce you to the best sport in the world!
April 14th, 2018
Get ready to bike, paddle, trek and navigate your way around Frankfort's Capitol View Park in a FOUR hour Adventure. NO prior navigation/orienteering experience is needed for this one and ANY bike will suffice. We'll also be partnering with a local canoe/kayak livery for anyone that doesn't have their own boat.
If you can use a road/trail map you can do this. Absolutely no prior navigation skill is needed.
---
What is Adventure Racing?
An Adventure Race (AR) is simply a race in which participants use a map and compass to locate checkpoints (CPs) utilizing specified modes of travel (biking, trekking, paddling). The goal is to locate the most CPs in the allotted time. There is no set course so you are free to choose any route you'd like – this makes AR all about strategy! Feel free to contact us if you have any questions about getting into this sport.
---
Race Facts
WHAT: A beginner to intermediate adventure race
LENGTH: 4 Hours
DISCIPLINES: BIKING (road or optional trail)| TREKKING (trail & road) | PADDLING
DISTANCES (approximate):
– Minimum miles to be an official finisher: BIKE 3 | TREK 1 | PADDLE 3
– Total miles to clear the entire course: BIKE: 10 | TREK 4 | PADDLE 4
WHERE: Capitol View Park (and surrounding area). Frankfort, KY. START/FINISH will be at Capitol View Park.
WHEN: April 14
WHO: Solos & teams of 2, 3, or 4
REGISTRATION: $75/person | includes quality maps, a cool shirt, and most importantly – a great race. | SHIRT DEADLINE is APRIL 1st | Registration CLOSES APRIL 9th.
NEW for 2018: The registration fee for anyone under 16 years old is only $3.61
---
Additional Info
MANDATORY GEAR | RULES | ROSTER | RACER COMMUNICATION | RESULTS |

SCHEDULE:

Race Check-In —  9:00 am – 10:00 am Shelter Location
Race Start —  11:00 am. (Maps distributed at 10:30 am)
Race Cutoff — 3:00 pm
After Party — 3:15 pm
---
Past Results