Good Teammates
by Jess Evans
February, 2018
This is a subject I have often struggled with because I want to be a good racing teammate, but sometimes it is hard to know what to do for your fellow teammates and what will be truly helpful.  I have raced on both Co-Ed and All-Female teams.  I feel that my role varies depending on which type of team I am on and the length of the race.
While I am a strong and dedicated racer, when I race on a Co-Ed team, I am not physically strong enough nor fast enough to support the team in that aspect.  Therefore, I offer other types of support.  I can assist with making navigation decisions, navigate when the primary navigator is tired, set the pace at a reasonable speed (often my speed), carry the punch card and punch the checkpoints, talk about anything to improve moods or wake people up, sing to keep things lively, tell bad jokes, offer suggestions when problems arise, be the secondary alarm clock, or remain silent when inner reflection is necessary.  All of those tasks are helpful for a team, especially in a multi-day race.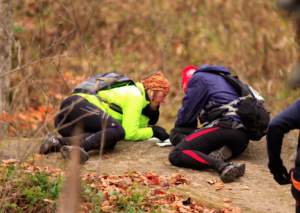 On an All-Female team, my role is different because I am with fellow females, where our strengths and weaknesses overlap.  I can do many of the same actions as mentioned in the Co-Ed team list, but I can also tow someone on bikes, carry someone's pack, allow a tired teammate to hang onto my pack during trekking, offer to lighten a teammates load in other ways, be aware of fatigue and encourage resting periods, and take the lead when necessary.
Interestingly enough, I feel I am more of a leader on the All-Female teams and have more of a support role on the Co-Ed teams.  What kind of male/female role psychology is going on in my head?  I will not dwell on that, and besides, Casey Hill's husband is studying that very subject.  When he concludes his work and presents his paper, I think it will be very interesting to read.
This is my view of what makes a good teammate. Each person on a team can offer valuable assistance to the entire team throughout a race.  Talk to your teammates to find out what they need and how you can be of help. Reveal what helps you to get through hard times. Do not push your teammates too much where injury becomes possible.  Keep the pace as fast as the slowest racer on the team.  Sustain emotional balance as much as possible and be civil to your teammates.  Each of you are struggling and excelling at different moments. Support each other through the good and the bad.
---
LBL Challenge
by Jess Evans
February, 2018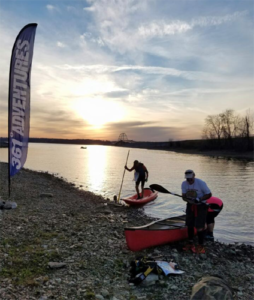 If you are into adventure sports and racing, the LBL Challenge is for you. For starters, it has an awesome venue!  I remember the first time I visited Land Between the Lakes (LBL) – not related to any adventure race.  I was amazed that this pristine park sat between two large lakes (Kentucky Lake and Lake Barkley).  The park exists where the Tennessee River and Cumberland River are dammed up to create this very cool land mass in the middle, sort of like an island.  The wildlife is spectacular, and the trails wind you through that beauty so expertly.
Early in my adventure racing career, I had heard about the adventure race at LBL.  I think one year there was a championship race there.  It was on the periphery of my knowledge of adventure racing.  At the time I was basically racing "The Fig", and that was it.  In 2017, Shawn and Dallas brought back the LBL Adventure Race.  I decided to try it.  I was signed up to race with Laura, from "Only MOSTLY Lost", but Laura came down with something – maybe strep.  Therefore, Gary and I teamed up to make the two-person "Only MOSTLY Lost" team.
The race started with the paddle on one of the gigantic lakes – I can't remember which one.  The waves were ginormous!  (Well, that is an exaggeration, but they were big.) The race had awesome flowing single track and fun (challenging) orienteering.  There was a BIG bike leg at the end, and it took us over 4 hours to get back to the finish.  We chose to do the shorter race… 15 hours.  There was also a 24-hour race going on simultaneously.  As we were heading back to the finish, on that long 4-hour bike leg, we passed many of the 24-hour teams.  We cheered them on, giving them encouragement as their long night was just beginning.
The LBL Challenge is March 3 and promises to be another great race this year.  It will be 18 hours, in honor of 2018.  And it is one of the four races in the 18-hour series.  If you have not done this race yet, seriously consider it.  LBL is a unique venue.
Note from Dallas: Registration for this one closes at 11:59pm (EST) Feb 15th. Here's the Registration Page if you still need to sign up.
---
Lumpers vs Splitters
by Jess Evans
February, 2018
 I am not sure what this has to do with AR but I will find a connection. I have a degree in Anthropology from Purdue University.  I remember the numerous discussions of "Lumpers vs Splitters" throughout my education, because anthropologists have to categorize everything – either by choice or necessity, I am not sure.  Is this primate a monkey, ape, or lesser ape?  Do these people live as hunter/gatherers, horticulturalists, or agriculturalists?  It goes on and on.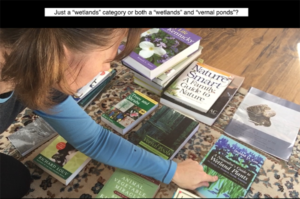 Well… it turns out, I am a "Splitter".  When I create folders on my computer, I must have folders within folders to be more specific as to what I am filing.  When I make lists for adventure race preparation, I do not have broad reaching categories, I am specific. I do not just have a food category, I have 4 columns with "pre-race food", "pack food", "TA food", and "post-race food".   For expedition races, I even have columns for "calories per food type", "quantity of that food type required", and "weight of each food type".  For example, my homemade biscuits (which do not last an entire 6 day race, I discovered) are about 400 calories and weigh about 0.25 pounds.  (Yikes! That is a heavy biscuit.)  I took 18 of them with me on the Cowboy Tough 6-day race, but ended up throwing away half of them… so sad.
While being a "Splitter" may appear to be tedious, I think it has served me well. I can tease out exactly what I require for a short or long adventure race due to my various lists.  I am still refining my lists and updating the data collected, but it makes me feel better knowing that I have the categories, the numbers, and the specific information required to pack for an adventure race of any length.
---
AR Required Gear
by Jess Evans
February, 2018
Most (well, probably ALL) adventure races have a required gear list.  This gear allows you, as the racer, to successfully and safely complete the race. A shorter race may require less gear, and a race with various other disciplines may have more variety of gear.  However, having the appropriate gear is necessary in adventure racing.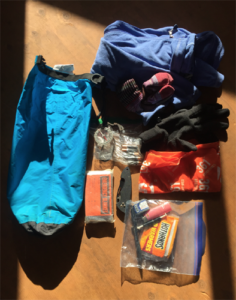 Let's look at the 361° Adventures LBL race gear list.  The LBL Challenge is the next race coming up, so it won't hurt reviewing the gear you need now.  This list is for someone to complete the 18-hour LBL race not only safely, but comfortably.
If you zero in on the individual gear, you can see that these items are in the best interest of the individual. The 361° Adventures RDs require that you carry something that can hold 2-liters of water.  They do not say you have to carry water in it, but not carrying water is not too smart.  The whistle and emergency blanket are the best items to have in case you are injured and must stay put while a teammate heads out for help.  Long sleeve shirt, waterproof jacket, and synthetic hat are great to have for those moments when cold creeps in on you during those times you must stop to scratch your head as you stare at the map blankly.  A headlamp is good whether you are doing a night race or not.  You never know when circumstances require a headlamp (caves, really dark woods, getting so lost that night creeps in).  Sharpies are good for writing on your map, writing on your passport, or putting reminders on your hand for those hours of the night when you are not thinking straight.  Finally, the dry bag is great for keeping your extra clothes dry.  I always love pulling out my dry bag after a night of biking, trekking, or paddling to put on warm, dry socks.  It is absolutely the best feeling.
Not only do I take the mandatory gear seriously, I carry many of these items when I am training.  Of course, it is good to train with your gear on you, but this stuff really can save you if something unforeseen happens while you are out enjoying nature (and training).  I know many races have gear checks during the race, but you should be carrying this gear regardless of "gear check" threats.  We want to see everyone back at the finish happy, healthy, and in one piece.
---
Rolling Out the New Year Survey Results
by 361° Adventures
February, 2018

Thanks for taking the Rolling Out the New Year Survey, the RESULTS are in! We appreciate the feedback, and will keep up the things you love about our races. We'll also work on your suggestions for making them even better. Here's a real quick summary.
What race lengths do you prefer?
Most like between 8 to 24 with a 12HR race being the sweet spot.
How important is it that a race be a USARA Qualifier?
According to the data, not very. 68% felt that it was "Not important at all" or "Slightly important".
Do you prefer lots of pre/post race stuff? and What swag options do you prefer?
Thoughts on Swag were pretty evenly split. 56% wanted more stuff, with 46% saying they'd prefer lower race costs at the expense of goodies. For those who did prefer some stuff, shirts won out; tech-shirts had a slight edge over cotton/blend shirts. Honorable mention goes to the versatile buff.
If you've raced a 361° event before, how would you rate the value?
Let's talk dollars. Seems about 75% of you thought we offered either an excellent or above average value. Thanks, it's a balancing act for RDs. We can make 'em cheaper, but it's going to cost something in the experience. We try really hard to cut costs in the "non-visible" parts of race management.
Open ended questions
For the open-ended questions of what makes a great or a negative race experience, we got a bunch of really good feedback. We'll continue to put CPs right where we say they are, hopefully with a great view to boot. We'll work on avoiding less travel on roads when possible, and surprisingly most racers don't like tramping through briars, poison ivy, and rhodo – especially while carrying their bikes.
---
Frozen
by Jess Evans
February, 2018
According to Adventure Race HUB, there are three adventure races in February. I have not done any of them. But I know several people who will be attending the NSF Adventures Frozen Beaver 6-hour ROGAINE in Ohio. I have not done NSF races in years, unfortunately, but I do remember them fondly. I liked this race for the same reason I like The Frigid – the woods are beautiful in the winter; it is a challenge to get yourself out there and keep yourself out for the entire cold race; it is a pleasure to see and socialize with my racing friends.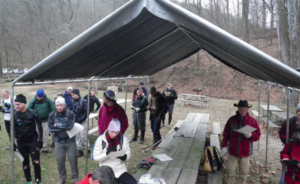 The Frozen Beaver is held at Lake Hope State Park in Ohio. You'll find this race in the rugged foothills in western Ohio. (Side note: In February you won't hear them, but March is an excellent time to hear the wood frogs and spring peepers in this area.) There are well groomed trails throughout the park along with lots of hilltops to climb and re-entrants to get sucked into. In past years, I have encountered snow on the ground and frozen trails, and other times, muddy trails and hillsides where you slide your way around the course. While it looks like it will not be as cold as The Frigid (a high of 15 degrees for that race in January), you might get some snow during the Frozen Beaver race and conditions can be muddy too. Good luck to the racers. Keep your eyes open, your feet squarely on the ground, and have fun!
---
Winter Training
by Jess Evans
January, 2018
Am I the only one that does not like cold weather training? Some of you look just plain giddy with your winter workouts on Facebook. For me, winter training takes a little extra push. I look at the temperature. I check on the wind speed and direction. I check the hourly forecast. I hem and haw around the house. Slowly I come around to the conclusion that I can't stall any longer; I must go out into the elements. Ugh…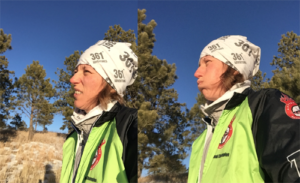 If it is snowing, that is usually an easier decision to go out than if it is sunny and cold. The bright big blue sky is not welcoming to me when I know it means cold temperatures and a slight breeze that goes right through me. But snow… I love running when the snow is coming down. I love to hear the snow crunch and see the trees covered in the white fluffy stuff. The woods are so quiet. It is not an oppressive silence, but a magical silence. Perhaps that is the allure for me, my imagination can take me away while I run through the newly fallen snow, but when it is just cold, nothing takes that away.
It is surprising that I can keep some level of fitness during the winter months based on my grumpy disposition towards cold weather training. I do not belong to a gym, so the only thing that keeps me going is thinking how abysmal I will be compared to my teammates if I do not get out. The fear of being a complete disappointment gets me out every time – but hey, whatever motivates. Happy Training!
---
Rolling out the new year.

We've started planning our race calendar (events we actually get to race in), and figure you're doing the same. The season will officially kick off for our 361° team with them representing at the LBL Challenge the first weekend in March, followed by the fun Death March ride put on by DINO the following weekend. We've got a BUNCH of other adventures on the slate that you'll see those dirty-purple jerseys at: The No Sleep race, SXT, Untamed Expedition Race, and the Mission to name a few. They'll probably be a biking of the entire Colorado Trail too, which is pretty exciting.
So, with 2018 and good races in mind, we wanted to get your feedback on what exactly makes a great event. We've put together a short survey, Rolling Out the New Year, so we can get your thoughts on what you'd like to see at all of our upcoming 361° Races.
If you let us know your ideas, we can make our events better. Plus, we'll put your name in the hat for a $100  361° GIFT CERTIFICATE drawing! We'll draw and announce the winner live on Facebook at high noon (EST) on February 3rd. So if you haven't already, please like our Facebook page.
Here's to the new race season, and putting on the best events we possibly can. Please give us a hand by completing the Rolling Out the New Year Survey.
---